If you were to ask this wondrous little creature, "Why are you coming out of that small, thin, delicate shell? What happened to you inside? What were you doing? Who are you anyhow?" The creature might say to you: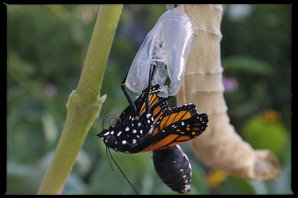 Write the vision down, inscribe it on tablets to be easily read,
since this vision is for its own time only: eager for its own
fulfillment, it does not deceive: if it comes slowly, wait, for
come it will, without fail. - Habakkuk 2:2
Dear Friends of the Farm,
At this time last year, Genesis Farm was deeply and actively discerning the next phase of our mission. We described this inward movement as entering a chrysalis. The symbols of a butterfly and chrysalis may not seem an appropriate theme for the season, but winter darkness and uncertainty are always the prerequisite for radical transformation into new life. The chrysalis also demands patience in waiting for insight, guidance, the return of light and the energy needed to respond.
When Genesis Farm chose to retreat from our familiar activities it was as if we were responding like a caterpillar. We tuned into far off and strange instincts, to deep visceral impulses. While we felt called to reinvent both ourselves and the forms in which we carried our purpose, we heard few and faint voices for guiding us in this difficult journey. We needed time and quiet for the deep memory of our core mission to resurface and express itself in transformed ways that were hopefully more appropriate and manageable.
And so we did the unthinkable. We stopped. We stopped our programs in Earth Literacy in the forms they were offered for over twenty years. We knew the content and resources for them were sound but we were also aware of how many others were writing, producing films, courses and websites that made Earth Literacy more accessible to far more people. To be able to think, reflect and take stock, we slowly cut back to a sphere of functioning that was more in balance with our core human and financial possibilities. And with programs suspended, we stopped the search for a new director.
One emerging clarity is that the state of chrysalis is an apt metaphor for a perpetual and vital pattern in the workings of the Universe and the natural world. In his series
The Powers of the Universe
, Brian Swimme identifies this powerful drive toward renewal and creativity as "emergence." But emergence follows after destruction or disintegration.
We tend to think of creativity as a distinctly human activity, but most creativity in the Universe occurs without any human effort. The creativity that humans do manifest is the same universal power of emergence that flows through every particle of existence. We are, Swimme explains, "creativity in the form of a human." To begin to overcome humanity's most intractable problems, we must develop and support the conditions that allow the inherent creativity of the Universe and Earth to flourish in our personal and communal lives.

The impulse to rethink the work of Genesis Farm is not separate from the deep unrest we all feel in response to the fate of our planet. Over the last three decades, the world has become more dangerous, disturbed and threatened than when we first began in 1980. How could we not help but feel that we must reevaluate our efforts and approach?
Einstein famously remarked that we couldn't solve humanity's problems using the same mindset that caused them. Long-term solutions won't happen without the very hard work of reinventing the mindset behind the systems and institutions in which humans live and function. Creating a new mindset, one that brings forth a harmonious and realistic relationship with the whole of Earth's life and story, is not only possible but also urgent.
An important thread in the identity of Genesis Farm is that we were founded and sponsored as a ministry of the Dominican Sisters of Caldwell, NJ. We are one of nine institutions our particular religious order has brought into the world since our founding in 1881. Like so many other communities of Catholic sisters, our congregation is also in a phase of planning and discernment akin to the nature of a chrysalis. We face a very unknown future because of diminishing vocations and resources to support our traditional way of life. Yet we all share a deep commitment to be of service to the future and to the common good. We are committed as well to the succession of all our institutions, which we have faithfully loved and are preparing to hand on. This process calls for deep and constant discernment. Given their birth in an earlier period of history, they must pass into an uncertain and very different expression of culture, values and meaning.
This larger framework bears on the eventual future of the precious lands and infrastructure of Genesis Farm, how we discern the best possible service they might provide for the future of this Ridge and Valley region of northwestern New Jersey, and with whom we will collaborate toward that end.
So we share with you some insights as we emerge from the chrysalis.
First of all, the core beliefs and mission of Genesis Farm remain unchanged. We are committed to studying, understanding and rethinking the meaning of our lives from the perspectives of deep time and deep space revealed through the discoveries of science. With this is the amazing realization that life, spirit, soul, and psyche have all been essential dimensions of the Universe from the first moment of its existence nearly fourteen billion years ago.
These ideas have been described most brilliantly by cultural historian Thomas Berry, who built on the earlier work of French paleontologist Teilhard de Chardin. Their perspectives are at the core of every aspect of Genesis Farm. Brian Swimme, Mary Evelyn Tucker, John Grim, Larry Edwards and many other pioneering scientists, writers and teachers weave these discoveries with the wisdom and spiritual legacies of the world's religious and cultural traditions, offering a fresh, expansive fabric of meaning which radically opens the future to hope. Not only are those traditions not left behind by the evolutionary story, but they offer the rich imagery, poetry, stories and visions that provide the energy, discipline and spiritual nourishment to support that hope.
So whether it is the voice of the prophet Habakkuk or the newly emerged butterfly, the imperative is the same: "Write the vision down, inscribe it on tablets to be easily read."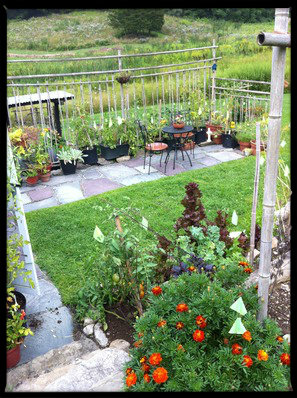 Genesis Farm's vision will be inscribed on two distinct but complementary tablets. One is the land itself, two sloping hillsides that meet at a small stream flowing between them. We call this the Valley of Aluna —
Aluna
being a Spanish word meaning "not yet within reach; a future coming toward us but still shrouded in mist." The second tablet is a revised Genesis Farm website that is slowly emerging from the form and spirit of our existing one. Our work is inscribing our vision on both tablets "to be easily read."
The western slope of Aluna is a living tablet slowly filling with gardens and ceremonial spaces. Both the gardens and the sacred spaces are meant to demonstrate possibilities available to ordinary people living in diverse settings for nourishing both body and soul. Nothing is grand or pretentious. Everything is scaled for one's home.
The different gardens illustrate that anyone can design beautiful and practical garden spaces in yards, vacant neighborhood lots, rooftops, balconies or sprawling subdivisions. Ordinary people, should they choose, can employ the principles of biodynamic gardening methods; they can save open-pollinated seeds; they can join forces with grassroots gardeners all over the world in protecting seeds from genetic contamination. They can provide small sanctuaries for restoring and regenerating the lives of bees and other pollinating creatures. They can design beautiful contemplative spaces to mark significant moments in the lives of their families and the great seasonal passages of Earth. This hillside tablet will try faithfully to incorporate the "patterns of wholeness" inspired by the work of Christopher Alexander and will root the gardens in the ethics and common sense decency embedded in the human struggle for equity, justice and authentic peacemaking.
The eastern Aluna hillside will be the setting for remembering and honoring the beloved ancestors in a memorial orchard. Set within a context of flowering meadows, and overlooking the activities of the gardens across the stream, this hillside invites a deeper intentional bonding of the living and dead, the animals, soils and waters into a single sacred community.
The second tablet we wish to make more easily read is our website. The website will continue to provide a forum for developing our Five Smooth Stones project. This project attempts to clarify and document ideas about alternatives to energy, social, economic and technological policies that presently threaten the common good. We plan to provide learning materials, current resources, and further collaboration with the network of educational and advocacy voices who so faithfully work to bring transparency to the issues most important to our lives.
As we move into the future, we wish to further support the wave of other individuals, groups and organizations who carry on the Great Work. So we offer the use of our buildings and lands to those groups whose work is in alignment with ours and who may be looking for an appropriate place to host a workshop, retreat, or special event. This is a service we have been offering for many years, but often our own program schedule made it difficult to accommodate the requests of others. Besides the land and buildings, there are many resources: a teaching kitchen, library, books, films, journals, and access to networks that may be helpful. We will also continue to collaborate with colleges, offering rich opportunities to students and faculty for research, internships, practicums, field trips, service learning and independent study.

As we work to simplify our financial needs, we are shifting away from conventional development approaches and returning to the circle of friends, patrons and donors who give because they believe in our mission and our values. This circle has been a major support over the whole of our history. While this circle widens and expands, it reflects the depth and continuity of natural systems that share abundantly with each other, through thick and thin with an organic sense of reciprocity.

Our devotion to the beloved community of the departed is another expression of this web of interdependence. The dead are not away. They are present and offer in ineffable ways the guidance, support and wisdom which we seek on this side of the Great Mystery. They encourage us to trust in a providence greater than present interest rates or corporate largesse. We honor them with seeds, flowers and fruit-bearing trees.

Genesis Farm holds in trust 231 acres of land and eleven buildings preserved for the common good. They, as well as the gardens of Aluna, are always in need of care, restoration, maintenance and skillful hands. Some of you who are our friends are more materially blessed than others. If you would like to be a patron of one or another of our projects, we would so welcome your generosity and involvement. For those of you who are able to volunteer your time and skills, we can match your talents and interests with the multitude of projects that are emerging. As our website progresses, we are also in great, great need of technical advice, mentors, writers and research volunteers.

Lastly, we thank you for your lives, your friendship and your faithful collaboration over many years. You are part of the heart and soul of Genesis Farm, and together we enter the next phase of the "Great Work."

Wishing you blessings and peace in this sacred time,
Miriam MacGillis and staff
Here are some of the volunteers, associates and staff who serve so faithfully in the work of Genesis Farm: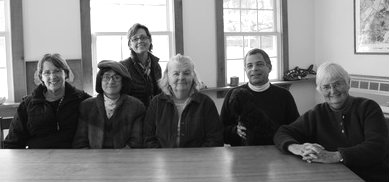 (left to right): Reanne Stack, Yelena Cheban, Liz Marshall, Tina Storch, Pete Peterson, & Miriam MacGillis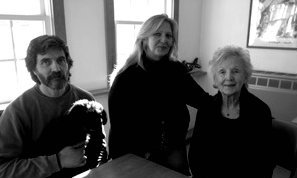 Jim Weinrich, Eve Minson, & Vera Dumont
photos by Hope Lucas